Check-out my new web-site!

Here to guide, support and enable


Keen to improve your health & well-being but can't find the course you want near to home?

Then take an on-line course and benefit from the latest technology and ideas in effective teaching & learning.

Are we all not thinking, feeling human-beings? Become more aware of your natural, feeling nature! Develop soft-skills and emotional intelligence to BE a better YOU, enjoy and succeed in life.

Do we grow wiser as we grow older? What is wisdom anyway? Find out how to tap into your own inherent wisdom . . .

What do we know and how do we know it? In this on-line radio show I explore, with experts from their fields, ways in which we can learn, know and grow . . . far beyond conventional teaching & learning . . .

At a cross-roads? Needing a change of job? Unsure about a relationship? Looking for a spiritual direction?

Reconnect to the real you!

Reiki training that enables you to relax, reflect and find your own inner peace & wisdom.
Taking our rightful place in One Reality
If you're finding that the 'interesting times' that we live in are a bit too interesting, I may well be able to help!
Many consider that humanity is at a cross-roads and that the start of the 21st Century offers unparalleled opportunities for changing how we think and behave, both individually and collectively. Such individuals and groups I would consider as belonging to 'the transcendence movement', a now significant and growing proportion of humanity that, to put it simply, thinks differently. The teaching, research and events in which I am involved set out to actively encourage and enable this 'transcendent' mode of consciousness, with consequential benefits to personal health and well-being.*
My approach, and that of the One Reality web-site, recognizes that each human being and each other life-form on earth is a unique and valuable part of the planet and its Eco-system. We are inter-dependent and inter-connected in many amazing ways. As we increase our awareness of this inter-dependence and of modes of consciousness beyond the purely rational, so we experience life with more depth and meaning. It has been my pleasure to meet and share (and research) many men, women and children who know that there is more to life, than the money driven, technological, material world that often seems predominant in society.
The One Reality that we all share, has many facets and numerous perspectives. To respond to the combined challenges of world financial uncertainty, global warming and an array of health and social malaise, requires a broader, deeper perspective on life Such a view, as an increasing number of us are experiencing, comes from integrating our rational thoughts with compassionate consideration for other facets of life on Earth. It comes from engaging with what many call a divine or sacred dimension in life. We might call it 'Being' (as per the philosopher Heidegger), 'Going with the Flow' (as Taoists might describe it) or bringing our own 'heaven to earth'. The feeling we get from such states of minds and experiences seems to be beyond religious beliefs and cultural background: an inherent sense of belonging in the world.
These are not just conceptual ideas, nor the province of a few mystics who live in remote caves, but the very real, day-to-day reality of the emerging way of thinking and relating to each other and the world. The aim of this web-site is to share both theory and practice on 'transcendence' and thus to further the co-creation of a One Reality in which we can all feel 'we belong'.*
News - April 2016
Be Inspired!
The BodyMind Institute has a new, much-improved web-site, complete with amazing courses, fascinating blogs and videos from our inspirational teachers. Learn about Nutrition from David Wolfe, how to be a Raw Chef . . .
or explore my own courses at BMI.
Listen to the latest Knowing & Growing radio show, where I talk to fellow BodyMind Institute visionary Dr Terry Willard about Iridology . . . and how the eyes really are the mirror of the soul . . .and the rest of us! Sign up to his course here.
Accelerated Learning Lectures (ALLs, or 'Power Hours') Now Available!
Do you find that many courses fill you with facts or theories without actually giving you the real essence of a subject? Would you like to learn about topics that can improve your well-being, from the comfort of however you access the Internet? As a visionary at the BodyMind Institute I've been working with my colleagues to bring you a new series of short, on-line courses that offer you the convenience to learn when you want to. Not only that, but we're utilising the best ideas in teaching & learning to help you really engage with the subject and take it on board at the deepest levels.
Topics open for registrations include: Making Friends with Time, Mindful Presence and Quality Matters
Click on above links for further details and to enroll, now!
* * *
Follow me:
,
,
,
,
,
This web-site is regularly updated and your comment & feedback is always appreciated. Thank you!
* Note: My meaning of some terms (transcendent, holistic, etc.) may not be the ones you are familiar with. Please refer to my Glossary for my definitions and meanings
---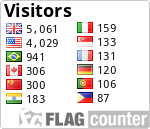 Copyright 2016 by Keith Beasley
Hosted by